ALEX REPORTS ON HIS ON-SITE RESEARCH IN NORTHERN IRELAND
Search of P.R.O.N.I. records of the Abercorn Papers, and associated travels. by Alex Latta (Br. #16)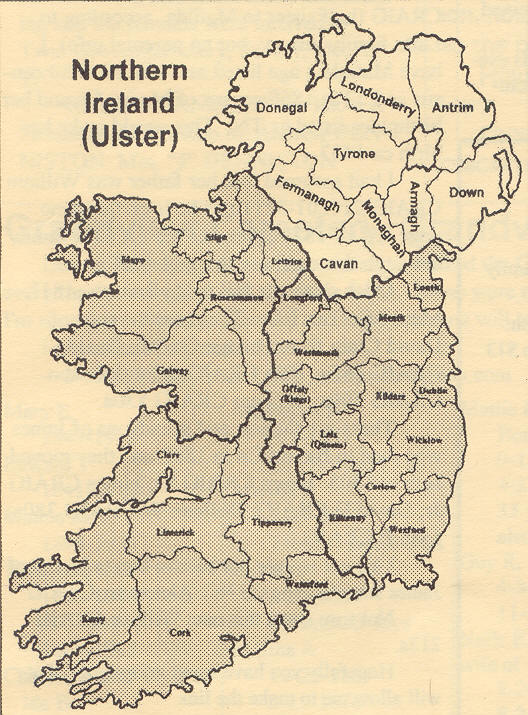 I arrived Manchester October 6th and proceeded to the home of Marie & Peter Scaife, in W. Yorkshire. Having secured a car, I left on Saturday, the 9th, took the ferry to Belfast. Being a weekend, I continued on to Sion Mills, Co. Tyrone, where I took a B&B.
On Sunday, I went to see Joe Murray near Dunnamanagh, who had given me important information on the "Dead Lines" of Br. #12. I needed the information on the back of the card that said which cemetery the burial took place in. The original card was not in his possession, so he gave me the name and address of the person who held it. John Riddles (Br. #12), lived just down the road, so I gave the information to him to search out.
Mr. Murray lived in a very old structure that was likely an old implement shed or storage area in the past. I saw no running water or electricity, in his one and only room. He was very glad to see me again, and confided that this was his 80th birthday. I then proceeded to Houston's Public house, who had provided me with the map showing Latta's Tongue. We had a nice visit over a glass of Irish whisky. I asked them if Joe Murray ever stopped in for a drink, and they said he did a couple of times a week, so I gave them £5 to buy him a drink or two for his birthday.
On Monday I visited Ian Latta, of Castlethird, near St. Johnstown, Donegal. We drove around the area to various locations to take pictures for several people that had asked, and for personal records. They are mostly landscapes of Bready, Castlethird, Cross and quarries.
Saturday evening last, I was asked by Colin Fletcher, of the B&B if I would like to go to church the next morning, and he would introduce me to Miss Hamilton, 84, the last of her line of the Earl of Abercorn's family. I did not bring suitable clothes for such an occasion so I declined. He then offered to try to arrange a short visit at her home for the next day. She declined, as she was tired of people quizzing her about the Hamiltons. I was disappointed but understood. I told Colin that that was not my intention in wanting to meet her, but that rather to just know the person, and to tell her what the Hamiltons had done for all the branches of Irish Lattas around the world.
On Tuesday, the 12th, I drove to Lisburn, near Belfast, and secured a B&B, which was very hand to PRONI offices. Mrs. Evans apologized that she would have to leave me alone for the evening, as she had to play bowls with her church league. I asked, if she had no one else to go with, that I would not mind going along to watch and pass the evening. She said that was a great idea, and along I went. When we got there, they were a person short, so I played bowls for the first time, and enjoyed the evening thoroughly. While on a coffee break, a lady member approached me, and asked if it was Edmonton that I was from, as she had a cousin there, and wondered if it was possible that I knew him. His name was Cecil Blackburn, and I said that, yes, I knew him, and would pass on news of her.
That same evening, I contacted Joan Petticrew, to assist me with the project. We met the next morning at PRONI, and I outlined what I wanted to do. It took a while convincing her that I did not want a genealogy search, but rather, that of land holders associated with the Abercorn estates. She finally started bringing me pertinent documents. After two and a half hours, I terminated her services, as she was doing personal work, while charging me for her services. I continued for the rest of the day poring over several documents, but could find no reference to Lattas, except for two members of the Muster Rolls of 1631. These I will list separately. It seemed that I was barking up the wrong tree, as it became apparent that the early possessors of these farms paid rent to the Estates. A better approach might be to trace the land titles. In 1794, there were no Lattas listed as tenants on the Abercorn estates. In 1663 and 1665, there were several Lattas paying hearth tax in this area. Did they own the land at this time? My family is said to have owned the land at Bready prior to 1860. This would indicate that they must have bought the land prior to 1794.
Somewhat disappointed, I returned to the B&B at Sion Mills. To my surprise, Colin Fletcher said that shortly after I had left on Tuesday, Miss Hamilton phoned and apologized for not seeing me, and said that she would be glad to. Colin then made arrangements for me to see her the next day, promptly at 2 PM., for a short visit. Miss Hamilton recognized herself as being of high station, and Colin was worried that I behaved appropriately. I took Miss Hamilton a calendar of the Alberta Rockies. She paged through each months, looking at the snow and rock, often shivering, saying that the snow and ice made her cold, but she loved the pictures. Our conversation was quite casual, and she often poked me in the ribs with her elbow, much to Colin's surprise. He was quite embarrassed when I told him later, that he had left his hat on during the visit. My picture was taken with Miss Hamilton, and she gave me a picture of her home on the Hamilton estate, where she had lived her entire life.
That same day I had gone to Londonderry to see if I could dig up anything else. I went to Templemore Cathedral, and was permitted to read some of their records. I was after a particular book, but it was the last one, and not for sale. The information that I took from it I will list separately. Obviously, some IGI records were obtained here. On the way to 'Derry, I stopped at Sandy Foster's farm to say hello. I met him three years ago while looking for Samuel Latta's farm. We had a very pleasant half-hour visit, even though he was in bed with a sore back. After returning from 'Derry, I went back to John Riddle's farm, as there was a picture of an old corn (wheat) crusher in his shed that had an inscription on it, which noted the birth of John Latta, son of William. When I drove into John's yard, he was just walking toward the shed, so I went with him and took my picture, and noted the date. This is temporarily misplaced, but I will record it when I find it. While I was in Belfast, John had gone to Jacky Lidsay's at Rousky, and borrowed the Dead Lines that he had, which he duplicated in 'Derry that day. He was about to mail them to me when I returned, and he was happy to give me the copies. I will enclose copies with this letter. There is still a big gap in this line, and I hope some day it will be resolved, for those in Br. #12.
On Oct. 16th, I drove to our farm at Kilgibbon, Co. Wexford, but stopped for a quick coffee at my cousin Margaret's farm in Co. Meath. While at Kilgibbon, Connie Latta was cleaning out some cupboards, when she came across a book entitled, "Universal Instructor." There was no publishing date, but inscribed on the fly leas was "Robert H. Latta, from his loving mother, 1888." I gratefully accepted the book, and have it in Edmonton.
Friday, Oct. 22, I phoned Jean (Latta) Tuck, sister of Ian Latta, of Castlethird, with the hope of meeting her, as I had known the rest of the family for many years. She kindly invited me to stay for a couple of days, and see the famous city of Blackpool and its huge entertainment centre. I enjoyed those two days very much, and am grateful to Jean and Geoff, and their daughter Leanne, who gave up her room for me.
I then returned to Marie and Peter's home at Riddlesden, and got rid of my car, which was trouble free, and a delight to drive, although the short wheelbase was hard to get used to. It seemed more like a Jackrabbit for a while, but very easy to park. I think my Canadian flag sticker might have saved me some parking tickets as well.
On the 27th of October, I returned home, well, but somewhat exhausted. Thursday morning, I checked my e-mail, and there was a note from Colin, saying that Miss Hamilton had phoned, and asked if I had developed the pictures yet. He thinks she liked me. I will soon send her the picture, and a nice note of thanks. She is a very diminutive person, but spry for 84 years.
This ends, with a degree of disappointment, but one can see that I had a very busy and enjoyable time. I cannot feel justified in presenting a bill for this research, as it accomplished little for those participating, and perhaps we can come up with another tack, that would be more productive.
Alex Latta (Br. #16)
E-mail: allatta@gambit.ab.ca