T. L. LATTA PLAYS ROLE IN MOTION PICTURE INVENTION
Branch 8
Eadweard James Muybridge (1830-1904) pioneered motion picture decades before the Lumiere brothers filmed their first movies in France. Muybridge may also have personally inspired Thomas Edison to begin his experiments in motion photography.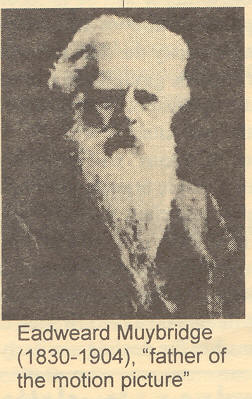 In 1872, Leland Stanford, former Governor of California, engaged Eadweard Muybridge to photograph galloping horses to prove that at one point during the horse's gait that all four feet were off the ground. Stanford served as Muybridge's benefactor through 1879 while he continued to study large-scale investigations of animal movement.
In 1884 William Pepper of the University of Pennsylvania invited Muybridge to continue his experiments in Philadelphia. Muybridge photographed animals from the Zoological Garden, models from the Pennsylvania Academy of Fine Arts, and at45236hletes and faculty from the University of Pennsylvania. A total of 781 plats were created for his Animal Locomotion publication.
Marta Braun, professor at the School of Image Arts, Ryerson Polytechnic University in Toronto, contacted The Latta Genealogy Newsletter recently. She is part of a group of researchers preparing an exhibit at the National Museum of American History in Washington. As part of their work they have identified the models that Muybridge used in his studies. One of these was Thomas Love Latta, who was a student at the University of Pennsylvania at the time.
Latta was a baseball player at Penn, and Muybridge made a number of images of him.
Thomas Love Latta was born 24 Sept. 1865 in Parkesburg, Chester Co., PA, a great-grandson of Rev. James Latta, DD, who was a member of Penn's first graduating class in 1757. Following his own graduation from the University of Pennsylvania, Thomas married Florence Hood. They ad found children, Thomas Love, who died in childhood, Elizabeth Hood, Margaret Coryell, and Thomas Hood.
Margaret Coryell Latta married a man named Rees, and they had a daughter, Florence, born 30 Oct. 1917. Thomas Hood Latta adopted a son, Thomas Rufus Latta, born ca 1922.
Professor Braun would like to contact living descendants of Thomas Love Latta in the hope that he may have made personal accounts of his work with Eadweard Muybridge.
Muybridge experimented further, and in time invented the zoopraxiscope, an instrument which in turn paved the way for cine photography. This invention was greeted with enormous enthusiasm.
In 1900 Muybridge returned to his birthplace, Kingston-upon-Thames, England, where he died a few years ago. His zoopraxiscope, together with many of his plates, were bequeathed to the Kingston-upon-Thames Museum, where they are on display.
If you know of living descendants of Thomas Love Latta, please contact Marta Braun, Professor, School of Image Arts, Ryerson Polytechnic University, 350 Victoria St., Tononto, Ontario, M5B 2K3 CANADA (416) 920-4000. mbraun@acs.ryerson.ca