Leadville was Colorado's second largest city in 1879, when prospectors crossed the Continental Divide and discovered one of the richest silver lodes the world has ever known. They named their mining camp Ute City, but by spring the name had been changed to Aspen.

By 1890 Aspen's silver production exceeded Leadville's, making Aspen the nation's largest single producer. Just three years later Aspen's twelve thousand residents had six newspapers, four schools, three banks, electric lights, a modern hospital, two theaters, an opera house, and a very small brothel district.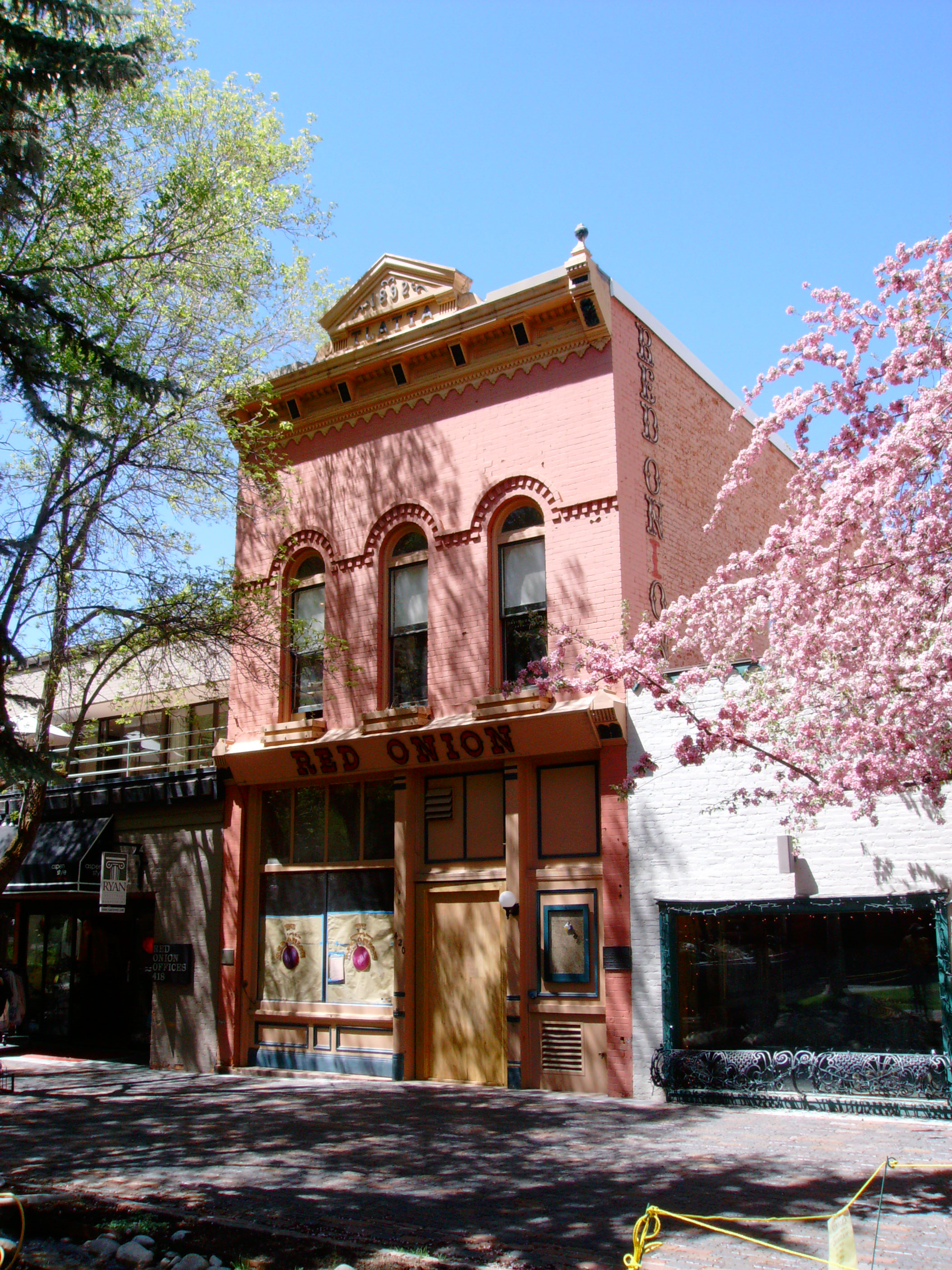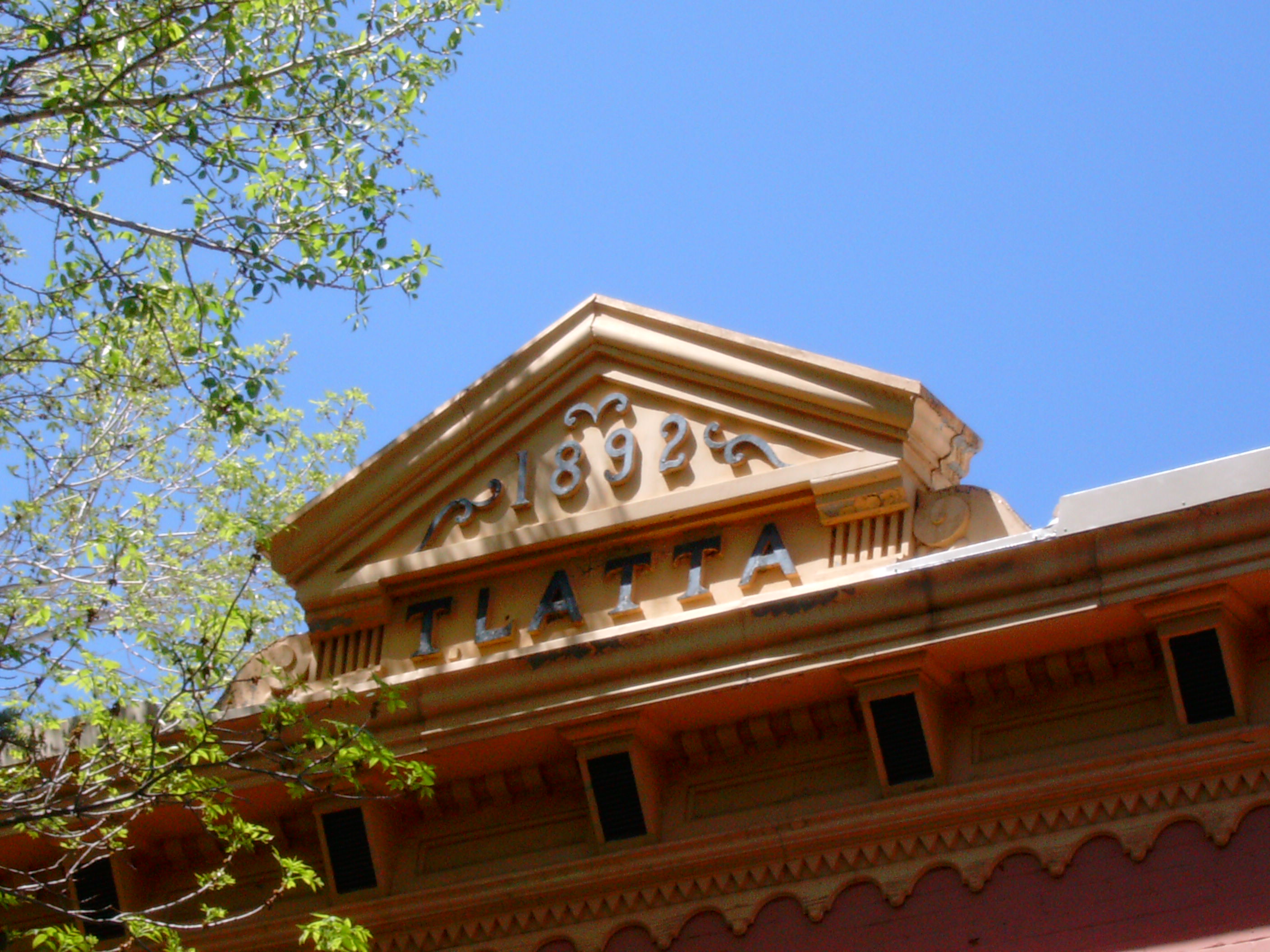 June 2, 2008 - photos by Sue Lattea Cox
NEW BRICK/THE BRICK SALOON/RED ONION
420 E. Cooper Ave.
National Register 03/06/1987, 5PT.113.5

A good local example of Victorian era commercial architecture, this two-story brick building was constructed in 1892 as a saloon for Tom Latta, a town alderman. The three second story windows are topped with rounded arches that are defined by dentil-like brick work, and a pediment is centered above the intricately detailed cornice. Listed under Historic Resources of Aspen Multiple Resource Area.
http://www.coloradohistory-oahp.org/programareas/register/1503/cty/pt.htm
It was in this mining-town heyday that Thomas Latta opened his saloon called the "New Brick" in a building he constructed in 1892. Latta's name appears on the façade atop the building and also inlaid in tile inside the entrance. The customers soon gave the saloon a nickname—The Red Onion—something unusual, the likes of which could be found nowhere else on earth.

The nickname stuck, and Tom Latta's saloon lives on, the only one of Aspen's mining-day saloons still operating in its original location.

Aspen's fortunes fell with the return to the gold standard in 1893. Ironically, one of the largest nuggets of native silver ever found was mined in Aspen in 1894, weighing over a ton. With a diminished commercial market for silver, Aspen survived as a rural county seat and ranching center as mining declined in importance.


Just 700 people lived in Aspen in 1935 when plans were first made for a ski resort. In 1947 Aspen Mountain opened with the world's longest ski lift. The following year Aspen became the first U.S. ski resort to host an international competition, and its reputation has continued to flourish ever since.

Subsequent owners of The Red Onion—as the establishment is called still today—have restored the charm and ambiance of Tom Latta's saloon, and it continues to be a favorite dining and drinking spot for fun-lovers in Aspen.

Sam McCray of Dayton OH originally sent us a query about the building's origins. Both Sue Cox of Salem WV and William S. Latta of Santa Barbara CA have since provided information about Tom Latta and his Red Onion Saloon.

Thomas Latta, 49, occupation saloonkeeper, his wife Laura, 40, and a stepdaughter Grace, 16, are enumerated in the 1900 Federal Census of Pitkin Co, CO, at 313 East Hopkins St, Aspen. Thomas was born in Pennsylvania and his parents in Scotland. Laura was born in England, as were her parents, and Grace was born in Kansas. (See Branch 23 for more on his family.)